Shop
$6 Shipping for your entire shopping cart within the US!
(single book orders may be shipped via USPS media mail)
Please note! If you order thread only, please email me at vikki@vikkipignatelli.com before you order.
I may be able to quote you a much lower shipping cost.

I offer Paypal. Paypal accepts most credit cards. Within the USA, you may also order directly from me with a check/money order.
Order Form
For Canadian and overseas orders:
To my international customers…please read: The shipping costs figured on Paypal are based on books, which are heavy and costly to ship. If you are interested in placing an order for thread, flexible curves, DVDs or for multiple items, please contact me via email at vikki@vikkipignatelli.com before placing your order online. I will be able to figure an accurate quote for the postage cost that is based on your personal order. In most instances, it will cost significantly less than what appears on Paypal. Once you accept the new, adjusted quote for the postage, I can send (email) you an invoice which is payable through Paypal. Thank you!
At the present time, I only ship to these countries:
Australia, Austria, Belgium, Canada, Denmark, England, Finland, France, Germany, Hong Kong, Ireland, Japan, Liechtenstein, Luxembourg, Netherlands, New Zealand, Northern Ireland, Norway, Poland, Portugal, Scotland, Spain, Sweden, Switzerland, United States and Wales.
DVD for Sale
Total Flexibility and Creative Freedom in Quilting
No rules. No measuring. No ¼" seams. No hassle!
Whether you are experienced or new to sewing, Vikki's simple techniques and easy-to-understand demonstrations provide you with the tools and confidence to create fun, innovative quilting projects. Join Vikki as she guides you in discovering and exploring your creativity.
Instruction includes:
Supplies and preparation
Basic Crazy about Curves technique
Creating a simple improvisational pattern
Improvisational "blocks" of all shapes
Innovative borders
Painless mitering
Borders and binding, including Vikki's whole-cloth facing
Teaching pattern included
2 disk-set…3 hours 50 minutes of instruction based on Vikki's "Crazy about Curves" and "Scrap the Pattern Improvisational Workshops".

Experience the possibilities. You can do this!

Please choose the format you need for your country:

Books For Sale
Just released!
Quilts: Exploring Texture and Dimension
This book features my techniques for creating strips, curvy strip piecing, tubes, pleats, full and partial facings and multiple surface layering to achieve texture and dimension in your work. You will enjoy incorporating these simple, but exciting and unique manipulations into your quilts.
This book contains new and revised material from my manipulations chapter in my book, Quilting By Improvisation, now out of print and no longer available. These are the techniques I teach in my classes. This book contains new illustrations, photos and layout. $22.95      56 pages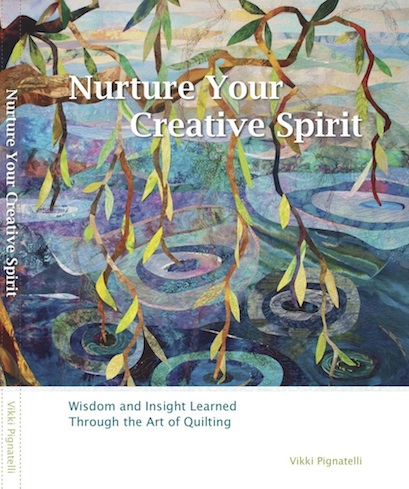 Nurture Your Creative Spirit: Wisdom and Insight Learned Through the Art of Quilting
Vikki Pignatelli
ISBN 978-0-615-61794-7
8" x 10", perfect-bound softcover, 152 pages in full color
Printed in the USA
Sale! Now $12.00


Shipping for individual orders:
International orders $25.00 USD (priority mail.)
Each book will be autographed. If you want the book personalized to your first name, please drop me an email at: vikki@vikkipignatelli.com. For group orders of 3 or more books, before ordering online please contact Vikki for a reduced shipping quote.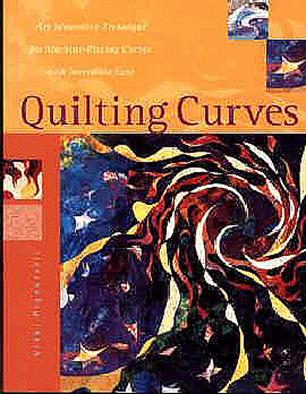 Quilting Curves : An Innovative Technique for Machine-Piecing Curves with Incredible Ease
A book on my easy curved template technique!
This book is temporarily unavailable.
© Vikki Pignatelli
160 pages
Published by McGraw Hill
ISBN# 0844242497
Retail price $24.95
Invisfil™ Thread by the Wonderfil Company
• Soft polyester
• 100wt—2 ply
• Matte finish
• Can be ironed
• Machine and hand appliqué
• Use as top and bottom thread
• Couching
• Use with water-soluble stabilizer to create fine machine lace, webs and textures
Invisifil Thread has 30 exciting new color selections by Vikki Pignatelli!
The colors are divided into 5 different packages, with each package containing 6 spools of thread. Each individual spool contains 400 meters (437 yards) of thread. Please refer to the charts for the colors within each package. Each package of 6 spools is $18.00.

Vikki's new colors (Packs #B006-#B010) include:
The InvisifilThread packaging for the new color sets features a detail of my water lily quilt, "Rhapsody In Pink":
The original packs of colors (#B001-#B005) of Invisifil Threads include:
B002


B003


B005


A note to my students:

As a quiltmaker I want the most professional results possible when I use my surface topstitch piecing techniques on my artwork. I've found that by far Invisifil 100 wt. thread fits the bill perfectly …it's better than invisible!
When I use the machine blind-hem stitch, a 70/10 needle and Invisifi l to sew my patches the result is terrific.

Invisifil has all the desirable qualities I need …it is very strong for it's light weight and it looks, feels and handles like regular thread….not to mention the wide variety of colors available. When I construct a quilt I need to match or blend thread color to the fabric. I've found that if there isn't an exact color match, that even if I use similar tones or values, the thread blends in perfectly with the fabric color.

I only endorse products I love…and I heartily recommend Invisifil 100wt.…it is the best of all worlds for a topstitching quilter like me.

Vikki
Truflex Flexible Curved Rulers
By the Alvin Company. Next to your pencil, it's the most important drafting tool you need. I cannot live without my 40" flex curve to help me design curves in my quilts. This tool is one of my favorites and a must-have!
Currently Unavailable.
Quilt Patterns

For international orders please email Vikki for postage estimate.

As you view the pattern images, please remember the sizes listed in the chart are in accord with my own quilt sizes. With my technique you have the freedom to change the shape and size of a pattern and its outside perimeter however you wish…so the finished size of your quilt will be subjective to your whim...

Pattern sizes do not include borders or bindings unless noted.

Please note: These patterns are intended for my former class/workshop students and those who have my books/DVD and are familiar with my topstitch techniques.



Lotus Blossom
15" x 15"
$13


Iris With Ribbons
18" x 25.50"
$16


The Spirit of Hope
21" x 24"
$16


Coneflower
11" x 12.5"
$9


Double Poppy
11" x 12.5"
$9


Hanging On For Dear Life
22.75" x 17"
$13


Calla Lilies With Bud
11" x 16"
$10


Evergreen
11" x 12"
$9


Joy Spirit
19.5" x 22"
$16


Spirit Love
20" x 21"
$16


Serenity Spirit
18" x 18"
$16


Single Poppy
11" x 11.5"
$9


Sunflower
11" x 17"
$ 9

Breaking Point
41" x 34"
$26


Autumn Wind
15.75" x 16.75"
$10