Shop
$3 Shipping for your entire shopping cart within the US!

(single book orders may be shipped via USPS media mail)
I am only shipping within the US.
I offer Paypal. Paypal accepts most credit cards.
DVD for Sale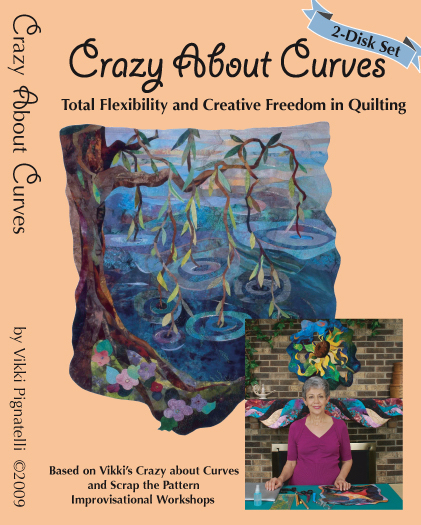 Total Flexibility and Creative Freedom in Quilting
No rules. No measuring. No ¼" seams. No hassle!
Whether you are experienced or new to sewing, Vikki's simple techniques and easy-to-understand demonstrations provide you with the tools and confidence to create fun, innovative quilting projects. Join Vikki as she guides you in discovering and exploring your creativity.
Instruction includes:
Supplies and preparation
Basic Crazy about Curves technique
Creating a simple improvisational pattern
Improvisational "blocks" of all shapes
Innovative borders
Painless mitering
Borders and binding, including Vikki's whole-cloth facing
Teaching pattern included
2 disk-set…3 hours 50 minutes of instruction based on Vikki's "Crazy about Curves" and "Scrap the Pattern Improvisational Workshops".

Experience the possibilities. You can do this!

Books For Sale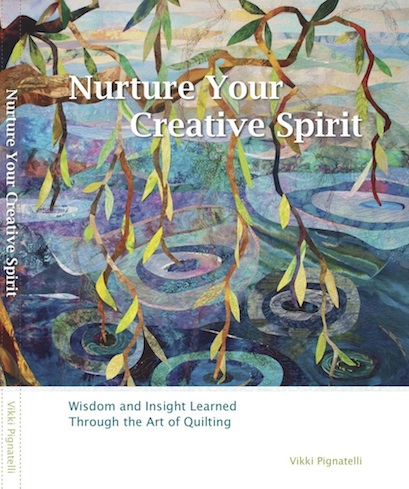 Nurture Your Creative Spirit: Wisdom and Insight Learned Through the Art of Quilting
Vikki Pignatelli
ISBN 978-0-615-61794-7
8" x 10", perfect-bound softcover, 152 pages in full color
Printed in the USA
Sale! Now $10.00

Shipping for individual orders:
Each book will be autographed. If you want the book personalized to your first name, please drop me an email at: vikki@vikkipignatelli.com.