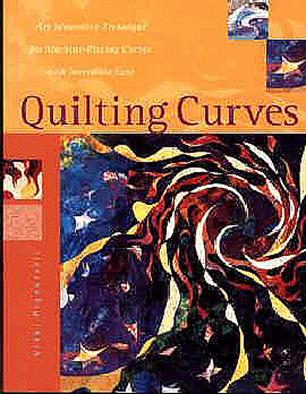 Description of Quilting Curves
You'll learn step-by-step methods for:

Easy piecing, construction and stitching on the top surface...total visibility makes projects simpler and more accurate to make.

Tight curves and sharp points easier than you ever dreamed possible.

Unique effects achieved with top stitched borders and bindings.

Fabric manipulations with my technique including three-dimensional projects.

My signature style of free-motion quilting....using several threads through a single needle.... featured in all of my quilts.

9 Patterns

Applying this technique to your own designs.
Did I mention there is no exact measuring for template seam allowances with Crazy about Curves? No more 1/4" worries! This is a very relaxing stress-free way to quilt. It is also a very forgiving technique. If you make a mistake, often it can be hidden easily. Curves are actually fun to do. It is a simple method, mastered quickly even for a novice.